From time to time, you might have the need to change a tenant's billing date. Your software has an easy process for changing the date rent is due for a tenant.
To change a tenant's billing date, go to the tenant's page and select the Edit Rental button in the Rentals section.
Under Monthly Rate, you'll find the Billing Date details. Select the Edit Billing Date button.
Next, select the day of the month to which you'd like to change the customer's billing date and select Save.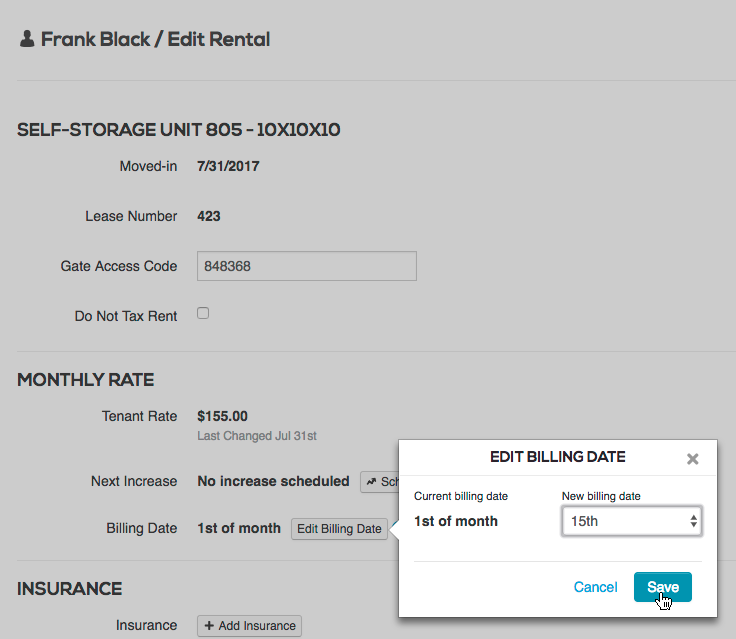 You'll see a confirmation that the tenant's billing date has now been changed.
After you've changed the tenant's billing date, a new pro-rated invoice will be generated by your software that will cover the time of the next unpaid original billing date through the day before the new billing period begins. Moving forward, the new billing period will be applied to the tenant's account.
Note: Keep in mind that if a tenant is using autopay, changing their billing date can cause them to become delinquent. Autopay dates are not automatically updated when you change a tenant's billing date. To avoid this issue, update your tenant's autopay date as well. You can learn more about setting up autopay on our help site. Additionally, please note changing the billing date is not possible for tenants who are already delinquent. Once delinquent tenants are up to date, you can change their billing dates as well.