Whether you use the default Rental Center™ functionality or you've paid for additional features, you can adjust your settings in storEDGE to control what information your tenants can view and change.
To access the Rental Center™ Settings, choose the Settings tab and select Rental Center beneath the Tenants heading. Here, you will see a variety of options that you can select to control your tenants' usage of rental center features.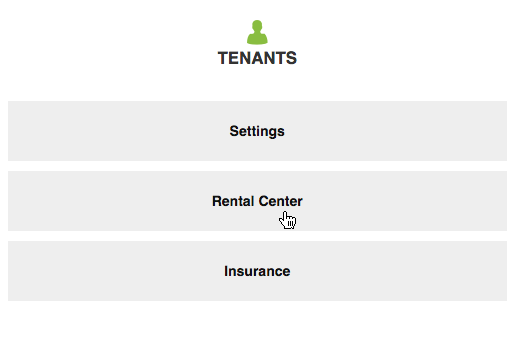 The Rental Center™ settings for all facilities include:
Rental Center™ URL: This displays the URL where your tenants can access the portal to pay their rent. If you are a storEDGE website user, this URL is already linked to your website.
Account Updates: Here, you can choose whether or not you will allow your tenants to change their contact information online.
Autopay: You can select this option to prevent your tenants from enrolling in autopay online. They will still be able to enroll in autopay through you at your facility if you select this option.
Partial Payment: Checking this box will prevent your tenants from making partial payments online.
Combo Lock: This options will display a combo lock icon when your tenant owes no balance to your facility.
If your facility allows online move-ins, your settings will look a bit different. Since you have more capabilities that you extend to your tenants, you have options to restrict some of these capabilities in the Rental Center™ :
Facilities that allow online move ins will have these additional capabilities:
Move in confirmation verbiage: Here, you can adjust the default message that confirms a tenant's successful online move-in.
Require Contact: Choosing this option will require that your tenant add an additional contact in order to complete an online move-in through the Rental Center™ .
Require Autopay: Here, you can choose to require that your tenants sign up for autopay in order to complete their online move-in.
Require Insurance: Checking this box requires your tenant to purchase insurance when completing an online move-in.
Require Services: This enables you to require your tenants to enroll in a service. You can set these service options under Fees and Services on the Settings tab. You can read more about adding services in our fees and services article.
Hide Additional Unit Button: This option disallows users from moving into an additional unit.

Hide Move Out

Button: Checking this box disables online move outs for your tenants.
For more information about the Rental Center capabilities and answers to our most frequently asked questions, visit out our Rental Center™ Overview article.